V.M. 6 Elite-HR/BP Activity Tracker Replacement Bands ***Push Tab Style***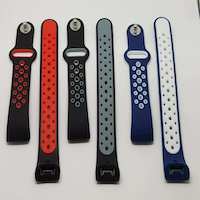 V.M. 6 Elite-HR/BP Activity Tracker Replacement Bands ***Push Tab Style***
Product Description
Description
***THIS BAND WILL ONLY FIT THE V.M. 6 Elite-HR/BP TRACKER***
If your fitness smartwatch band is looking a bit worn out after being used for so long or you are tired of the same old color, then it's time for you to replace it with this high-quality replacement band! Specially designed for the V.M. 6 Elite-HR/BP Waterproof Activity Tracker With Blood Oxygen Technology, this replacement band is made from flexible and durable silica gel with a stainless steel peg connection.
High-quality replacement band is easy to install and remove so you can replace anytime if you want different colors to match your outfit. Our replacement bands are also resistant to water splashes, sweat and rain so you can wear them outdoors or during high-intensity workouts.
Choose your favorite among 3 colors! Get your V.M. 6 Elite-HR/BP Activity Tracker replacement band today!
LET OUR CUSTOMERS SPEAK FOR US
Wear it 24/7
I admired my husbands band and he talked me into ordering one of my own. I love that I can swim in it and wear it 24/7 without even knowing I'm wearing it!
Gay C.
08/12/19
Spot on With Values
Amazing once you get it paired works perfectly. Spot on with values pulse BP etc. Vibration strong enough to get your attention when text or call comes in. If you want it for sport mode that is not the best. Only has run walk home no choices like swim paddle etc. It is very waterproof salt and fresh. Battery lasts 4 days before charging again. Great buy overall.
Lorem.
07/16/19