4g Crankmaster FatBoy Bass Classic Lure 5 Piece Assorted Bundle Pack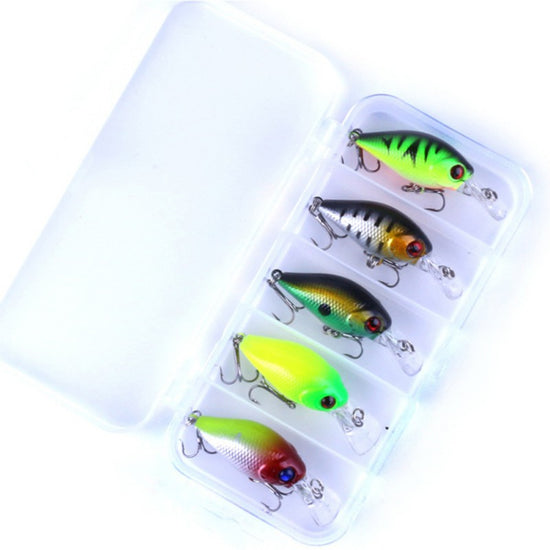 4g Crankmaster FatBoy Bass Classic Lure 5 Piece Assorted Bundle Pack
Product Description
Description
The Crankmaster FatBoy Bass Classic Lure is the victory every fisherman needs in their tackle box serious about landing the big ones. Winning more prize money doesn't happen by accident it takes skill and quality equipment. The Crankmaster FatBoy Bass Classic is a fat-sided deep-running crankbait that will completely renovate your crankbait game. Strike deep into enemy territory and land the real trophy winners.  
Enticing curves lead to tight action, larger and longer bait lips add to more vibration and fish enticing exaggerated swimming lead to bigger fish and more frequent hits. The Fat Head Crank is responsive with an ease of retrieve never before seen in a Crankbait of its size and running depth.
Crankmaster FatBoy Bass Classic Luers feature the latest advances in color and reflectivity, realistic 3D eyes and in-line razor-sharp treble hooks. Tough and true craftsmanship, the Crankmaster FatBoy Bass Classic is a premier deep-diving crankbait on the market.
Shown to help tournament-placement
5 of our best and most proven color patterns
Premier deep-diving crankbait
Compact and portable carrying case
Irresistible to all species of bass, walleyes, northern pike and more
LET OUR CUSTOMERS SPEAK FOR US
Wear it 24/7
I admired my husbands band and he talked me into ordering one of my own. I love that I can swim in it and wear it 24/7 without even knowing I'm wearing it!
Gay C.
08/12/19
Spot on With Values
Amazing once you get it paired works perfectly. Spot on with values pulse BP etc. Vibration strong enough to get your attention when text or call comes in. If you want it for sport mode that is not the best. Only has run walk home no choices like swim paddle etc. It is very waterproof salt and fresh. Battery lasts 4 days before charging again. Great buy overall.
Lorem.
07/16/19