6 in 1 Multi-Function Stylus Pen EDC Tool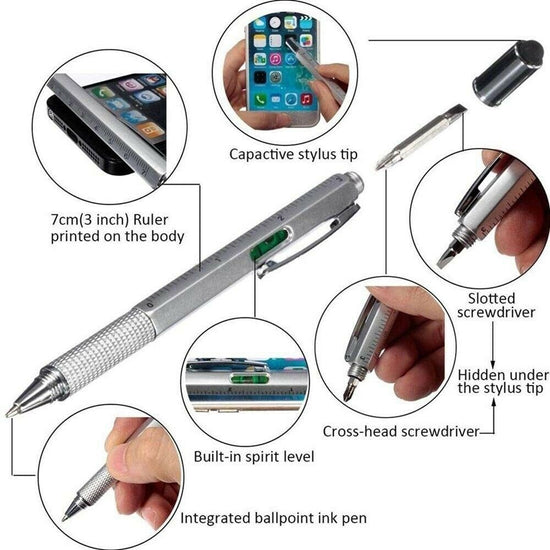 6 in 1 Multi-Function Stylus Pen EDC Tool
Product Description
Description
The Last Everyday Carry Pen You Will Ever Need...
This multi-tool pen is a revolutionary stylus pen that is a must-have for any handyman/woman and even professional, home improvement geeks, or anyone who likes to be prepared with a couple of handy tools on them at all times. Perfect for all your DIY around-the-house project maintenance, each tool pen features a ruler, touch screen stylus pens, spirit level, and both flat head and Phillips screwdrivers! 6 in 1 Multi-Function Stylus Pen EDC Tool offers you the go-anywhere convenience.
Each 6 in 1 Multi-Function Stylus Pen EDC Tool is built from strong aluminum so you can use it anywhere anytime, at home, and even at the office. Keep it with you for those everyday needs. With so many handy functions, you will never be without a flathead or Phillips head screwdriver again, always prepared with a mini level, never fall short with the printed ruler on the pen body, stylus tip, and a classic ballpoint pen.
Whether you write memos on paper or you keep notes in your phone, the 6 in 1 Multi-Function Stylus Pen EDC Tool is a must-carry tool. The aluminum material helps make it lightweight and easy to carry.
LET OUR CUSTOMERS SPEAK FOR US
Wear it 24/7
I admired my husbands band and he talked me into ordering one of my own. I love that I can swim in it and wear it 24/7 without even knowing I'm wearing it!
Gay C.
08/12/19
Spot on With Values
Amazing once you get it paired works perfectly. Spot on with values pulse BP etc. Vibration strong enough to get your attention when text or call comes in. If you want it for sport mode that is not the best. Only has run walk home no choices like swim paddle etc. It is very waterproof salt and fresh. Battery lasts 4 days before charging again. Great buy overall.
Lorem.
07/16/19