AUTHENTIC AM/FM RETRO WOOD MINI BLUETOOTH SPEAKER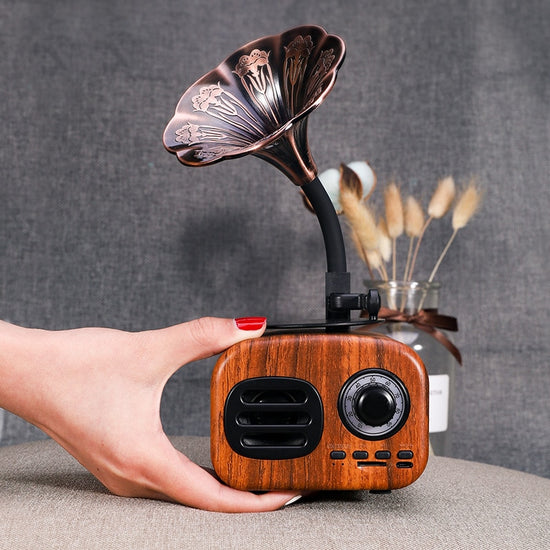 AUTHENTIC AM/FM RETRO WOOD MINI BLUETOOTH SPEAKER
Product Description
Description
♪【Let's Take It Back To the Good Ol'Days】♪
This vintage radio speaker was crafted by natural wood and blends modern technology with retro classic aesthetics, combining the latest and best digital audio tech with a 1950s retro vibe. Time travel back into the golden age of music in the 50s and enjoy soothing melodies that make today's busy life bearable. Featuring an advanced Bluetooth 4.2 technology, this retro Bluetooth speaker connects with your Smart devices faster than you can say, Jack. 

♪ 【Show your Eclectic Side 】♪
This specially designed retro Bluetooth speaker is a style statement that differentiates you from common music lovers and their ubiquitous modern devices.  Unique and vintage in appearance, this retro radio wireless Bluetooth speaker is nostalgia personified. Miss the good old days of radio channel surfing? The retro FM radio functionality instantly puts you in a time-box takes you back to the good old days of radio channel surfing. Chances are a few teardrops are in it for you when you blast your favorite Beatles Music from this retro wood loudspeaker!

♪【Ideal Gift For Music Lovers】♪
Thinking of the perfect gift for your music-loving friend or family? This unique retro Bluetooth speaker comes equipped with a bass enhancement system that would rock them out of their seats. You're sure to make their day with a gift that produces that stereo rich sound they love and without any complicated or heavy traditional speakers. Any music-lover would love this retro radio speaker and you will always hold a special place in their heart for this special and impressive gift!

♪ 【Portable, Loud and Perfect For the Outdoors】 ♪
Lightweight and featuring a 1200mAh built-in rechargeable battery, hikers, bikers or beach-lovers are guaranteed up to 8 hours playtime. Go outdoors with this portable "bad-boy" and enjoy listening to music at cookouts, parties, yard work, campfires and more!
LET OUR CUSTOMERS SPEAK FOR US
Wear it 24/7
I admired my husbands band and he talked me into ordering one of my own. I love that I can swim in it and wear it 24/7 without even knowing I'm wearing it!
Gay C.
08/12/19
Spot on With Values
Amazing once you get it paired works perfectly. Spot on with values pulse BP etc. Vibration strong enough to get your attention when text or call comes in. If you want it for sport mode that is not the best. Only has run walk home no choices like swim paddle etc. It is very waterproof salt and fresh. Battery lasts 4 days before charging again. Great buy overall.
Lorem.
07/16/19