Auto-Fetch Dog Buddy Bot Toy Ball Launcher With Interactive Positive Reinforcement Feature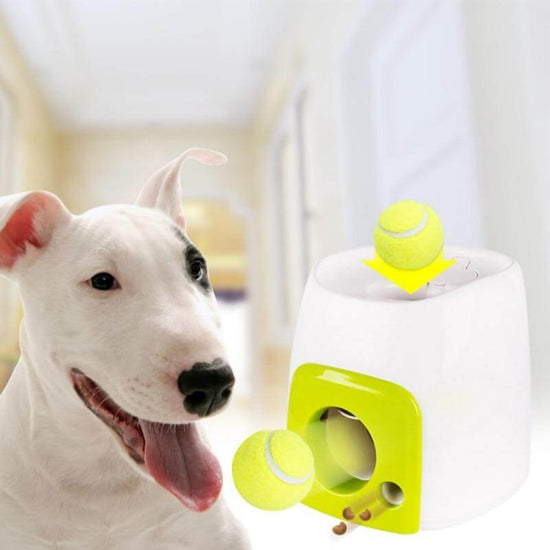 Auto-Fetch Dog Buddy Bot Toy Ball Launcher With Interactive Positive Reinforcement Feature
Product Description
Description
Does your little four-legged friend like to play fetch? Then they will love this and so will you.
Keep your pet going with hours of incredible drooling fun while you are away the Auto-Fetch Dog Buddy Bot will play. The excitement will never stop for your furry friend and you don't have to feel like you just spent hours playing "fetch". And if you're looking to bond with your furry friend with less effort, you can get back in the game whenever you want by tossing the ball into the launcher yourself.
Train your dog to retrieve the ball themselves and put it back in the machine to be launched again! The prize is a few treats for each successful task and it's fun galore in dog town!
Features
Suitable For Any Size Breed of Dog
Auto-Fetch Dog Buddy Bot Toy Ball Launcher is suitable for any size breed of dog and is completely easy to use. All you have to do is plug it in, put in some treats, and drop in the ball. Literally, it's that easy!
Made with Durable, Pet-Friendly Non-Toxic and Environment-Friendly Material
Innovative, Time-saving, Fun Dog Exercise Solution.
The days where you're struggling to give your dog as much exercise as he truly needs are now a thing of the past with this the automatic ball launcher!
A great backyard addition for the exuberant dog, or the lazy pooch who needs some encouragement to shed those excess pounds!
LET OUR CUSTOMERS SPEAK FOR US
Wear it 24/7
I admired my husbands band and he talked me into ordering one of my own. I love that I can swim in it and wear it 24/7 without even knowing I'm wearing it!
Gay C.
08/12/19
Spot on With Values
Amazing once you get it paired works perfectly. Spot on with values pulse BP etc. Vibration strong enough to get your attention when text or call comes in. If you want it for sport mode that is not the best. Only has run walk home no choices like swim paddle etc. It is very waterproof salt and fresh. Battery lasts 4 days before charging again. Great buy overall.
Lorem.
07/16/19