Cigar Aficionados Spanish Cedar Leather Travel Case Humidor with Humidifier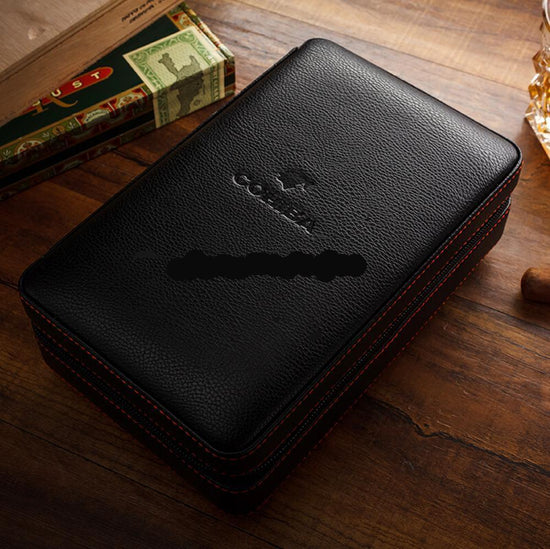 Cigar Aficionados Spanish Cedar Leather Travel Case Humidor with Humidifier
Product Description
Description
Don't you hate when the cigar you've been waiting for after a long trip is stale or broken?  Well, rest assured that the next time you're out on the town or traveling the world abroad your cigars will not only stay secure but also retain that crisp fresh taste that only the Cigar Aficionados Spanish Cedar Leather Travel Case Humidor with Humidifier can provide. The elegantly crafted Spanish Cedar lining cigar cradles, create the perfect environment for any cigar. 
The included humidor and pipette ensure you can maintain just the right humidity for all of your hand-rolled treasures. Carry four cigars up to a 50 ring gauge. The black or brown leatherette padded exterior provides that professional and stylish look. Small enough to fit inside luggage and most briefcases. Makes a perfect gift for any and all cigar aficionados!
LET OUR CUSTOMERS SPEAK FOR US
Wear it 24/7
I admired my husbands band and he talked me into ordering one of my own. I love that I can swim in it and wear it 24/7 without even knowing I'm wearing it!
Gay C.
08/12/19
Spot on With Values
Amazing once you get it paired works perfectly. Spot on with values pulse BP etc. Vibration strong enough to get your attention when text or call comes in. If you want it for sport mode that is not the best. Only has run walk home no choices like swim paddle etc. It is very waterproof salt and fresh. Battery lasts 4 days before charging again. Great buy overall.
Lorem.
07/16/19