CopperStrong™ 2 Pairs Copper Infused Wrist Support Joint Compression Gloves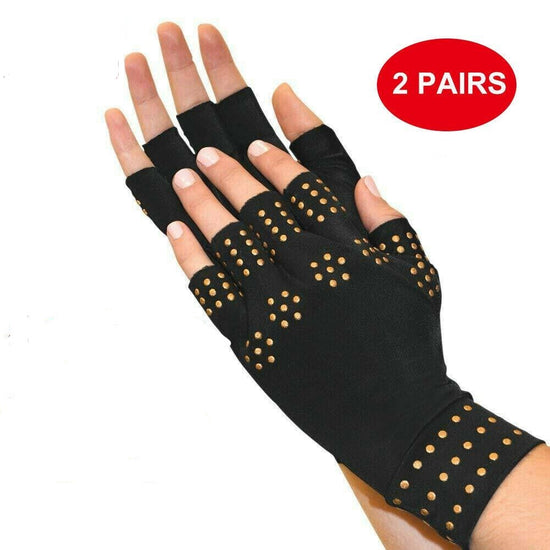 CopperStrong™ 2 Pairs Copper Infused Wrist Support Joint Compression Gloves
Product Description
Description
If you are suffering from stiff, swollen, or painful hands and fingers, you're probably frustrated with the agony and discomfort that brings to your life.  Not anymore Enjoy life to the fullest!
ACT NOW AND GET 2 PAIR FOR THE PRICE OF ONE!!!!
Relieve constant pain and swelling in your wrists, hands, and fingers with our CopperStrong™ Copper Infused Wrist Support Joint Compression Gloves. Using targeted compression, these gloves help to increase nutrient-rich blood flow and restrict the build-up of excess fluid. 
These are not the ordinary gloves that you see being sold during the winter months. These copper compression gloves are developed after a lot of thought and scientific research to help people whose lives have been hampered by mild to severe hand pain and problems.
Made with copper-infused fabric, these compression gloves not only help reduce pain, swelling, and stiffness but also stimulate oxygen delivery in sore muscles and promote better blood flow in inflamed joints. These copper-infused gloves also reduce inflammation, provide support, and help accelerate recovery while alleviating pain.
LET OUR CUSTOMERS SPEAK FOR US
Wear it 24/7
I admired my husbands band and he talked me into ordering one of my own. I love that I can swim in it and wear it 24/7 without even knowing I'm wearing it!
Gay C.
08/12/19
Spot on With Values
Amazing once you get it paired works perfectly. Spot on with values pulse BP etc. Vibration strong enough to get your attention when text or call comes in. If you want it for sport mode that is not the best. Only has run walk home no choices like swim paddle etc. It is very waterproof salt and fresh. Battery lasts 4 days before charging again. Great buy overall.
Lorem.
07/16/19