Digital LCD Air Pressure Tire Gauge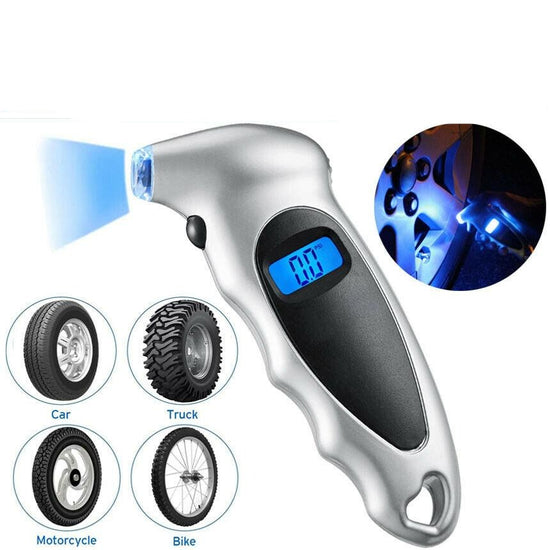 Digital LCD Air Pressure Tire Gauge
Product Description
Description
The Digital LCD Air Pressure Tire Gauge helps you maintain the correct tire pressure, ensuring safety, increasing fuel efficiency, improved vehicle handling and safety reducing tire wear ultimately extending the life of your tires. 4 settings with ranges: 0-150PSI / 0-10Bar / 0-10Kgf/square centimeter or 0-1000KPA leaving no tire that won't benefit. ergonomic design and non-slip texture 
The bright backlit LCD display and Lighted nozzle make visibility in dimly lit areas easy. The accurate and easy-to-read digits help you easily measure your vehicle's tire pressure. Simply press Power Button to turn on the tool and select the range. Versatile use for cars, trucks, motorcycles, bicycles, etc.
In order to get a good seal, please put the tire's air nozzle up or off to the side. It's the best when the nozzle is around 6 or 7 o'clock position so that you can firmly press the gauge straight down which means you have to crane your head a little bit for reading. Always remember the most important thing for you is to be able to press down straight & hard onto the tire's nozzle.
LET OUR CUSTOMERS SPEAK FOR US
Wear it 24/7
I admired my husbands band and he talked me into ordering one of my own. I love that I can swim in it and wear it 24/7 without even knowing I'm wearing it!
Gay C.
08/12/19
Spot on With Values
Amazing once you get it paired works perfectly. Spot on with values pulse BP etc. Vibration strong enough to get your attention when text or call comes in. If you want it for sport mode that is not the best. Only has run walk home no choices like swim paddle etc. It is very waterproof salt and fresh. Battery lasts 4 days before charging again. Great buy overall.
Lorem.
07/16/19