DuckOut™ 12PCS Outdoor Tactical Survival Gear Kit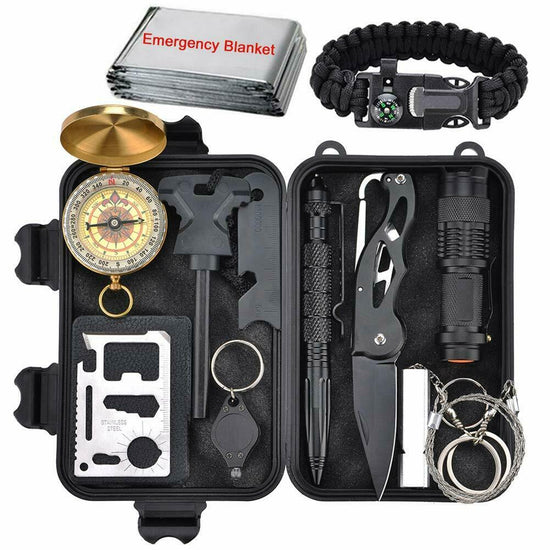 DuckOut™ 12PCS Outdoor Tactical Survival Gear Kit
Product Description
Description
You have heard the saying "always be prepared", and we agree. This must have kit is just what everyone needs to ensure they will always be prepared. You can keep it your day to day vehicle and is perfect for the RV. If you are an avid camper or outdoor junky this kit is just perfect. Packed with tools for your survival yet compact and easy to carry. 
The DuckOut™12PCS Outdoor Tactical Survival Gear Kit will be a necessary tools for emergencies and wild adventure, it can meet all your needs.
5 in 1 Survival Bracelet: 
The 5-in-1 survival bracelet included in this kit is more than just a wristband. This outdoor survival tool combines the convenience and comfort of a bracelet with the versatility of a multi-tool you can keep with you at all times. Unravel the material to reveal up to 10 feet of string that can be used throughout a campsite.
In addition to the 10 feet of paracord string, this survival bracelet also includes the following outdoor survival supplies: compass, whistle, flint, and scraper. What sets this 5-in-1 survival bracelet apart from other paracord wrist is that it combines an assortment of tools together into a small, wearable package. As an added bonus, the paracord bracelet is also stylish, and durable, enough for everyday wear.
Unique Multifunction Swiss Card:
This credit card-sized multifunction tool, easily fits inside your wallet or pocket. Stuffed with 11 Functions You Say? : Can Opener, Bottle Cap Opener, 4-Position Wrench, 2-Position Wrench, Butterfly Screw Wrench, Direction Ancillary Wrench, Screwdriver, Knife Edge, Saw Blade, Ruler, Key chain Hole.
Flintstones Fire Starter:
Made from magnesium and iron, guaranteed to provide you with 5000-12000 flint strikes. Lightweight, space-saving, and easy to carry. Start your fire anywhere, anytime, and any condition.
Compass:
Military Grade Compass, Features 360 degree rotating bezel for easy navigation & orienteering. Always find your way rain or shine, day or night. 
Emergency Survival Pen:
Made From tungsten steel For Superior Strength & Portability, break a window/ glass, escape in an emergency situation. The perfect pen for anyone who is into survival, hunting or outdoors as well as Military or Emergency Services Personnel.
Tactical Torch Flashlight:
With zoomable design, heavy-duty, compact handheld flashlights, zoom in for an intense beam or out for wider illumination. 3 light modes like High / Low / Strobe. With its ultra-bright LED light, and ability to run for hours of just a single AA Battery (Not Included). 
Full Kit Includes The Following
1 x 5 in 1 Survival Bracelet
1 x Flintstones 
1 x Multi-function scraper
1 x Emergency tungsten steel pen
1 x Tactical torch flashlight
1 x Multi-function compass
1 x Portable mini light
1 x Tactical Military Knife 
1 x Saber card
1 x Whistle
1x Life-saving blanket
1 x Shockproof case
1 x Wood Saw Wire
LET OUR CUSTOMERS SPEAK FOR US
Wear it 24/7
I admired my husbands band and he talked me into ordering one of my own. I love that I can swim in it and wear it 24/7 without even knowing I'm wearing it!
Gay C.
08/12/19
Spot on With Values
Amazing once you get it paired works perfectly. Spot on with values pulse BP etc. Vibration strong enough to get your attention when text or call comes in. If you want it for sport mode that is not the best. Only has run walk home no choices like swim paddle etc. It is very waterproof salt and fresh. Battery lasts 4 days before charging again. Great buy overall.
Lorem.
07/16/19