DuckOut™ 23L Waterproof Fishing Tackle Backpack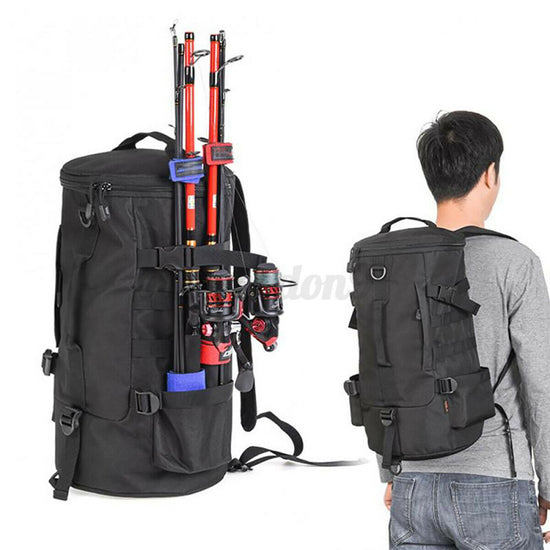 DuckOut™ 23L Waterproof Fishing Tackle Backpack
Product Description
Description
- The Lightweight and durable DuckOut™ 23L Waterproof Fishing Tackle Backpack is made of heavy-duty waterproof polyester fabric and double stitched secure zippers, makes it ideal for all types of fishing environments like saltwater, freshwater, and even Ice Fishing.
Your DuckOut™ 23L Waterproof Fishing Tackle Backpack has room to hold all of the most important gear every fisherman needs including your poles! If you have ever had to navigate rough terrain by foot then you know how important it is to have both hands free. Easily strap up to three poles to take anywhere. 
What's more, it's lightweight and compact, letting you wear it comfortably even while you're casting. Need a swap out quickly and easily drop and swap bait in seconds. With various internal pockets and hanging points outside you can bring all fishing gear you need all in one bag.
Specifications:
- Material: Polyester fiber
- Size: 45 x 26 x 26cm
- Capacity: 23L
LET OUR CUSTOMERS SPEAK FOR US
Wear it 24/7
I admired my husbands band and he talked me into ordering one of my own. I love that I can swim in it and wear it 24/7 without even knowing I'm wearing it!
Gay C.
08/12/19
Spot on With Values
Amazing once you get it paired works perfectly. Spot on with values pulse BP etc. Vibration strong enough to get your attention when text or call comes in. If you want it for sport mode that is not the best. Only has run walk home no choices like swim paddle etc. It is very waterproof salt and fresh. Battery lasts 4 days before charging again. Great buy overall.
Lorem.
07/16/19