DuckOut™ 7.5" Pocket Knife 5-in-1 Tactical Multitool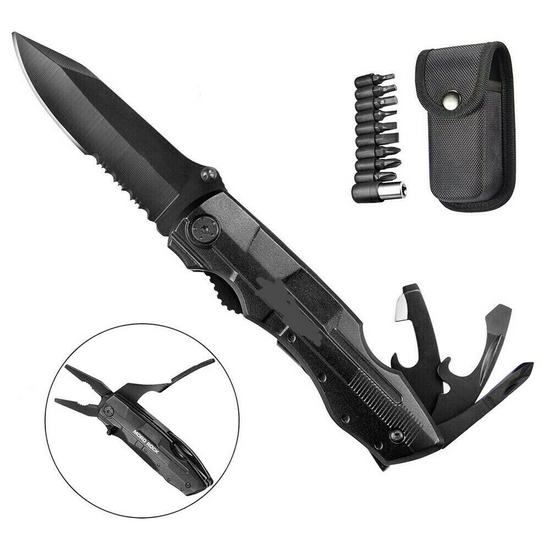 DuckOut™ 7.5" Pocket Knife 5-in-1 Tactical Multitool
Product Description
Description
This reasonably priced, durable, sophisticated, and compact multi-tool is the must-have tool in your pocket. The DuckOut™ 7.5" Pocket Knife 5-in-1 Tactical Multitool has five functions, saw, pliers, can openers, openers, and a screwdriver with a 9-in-1-bit set. The ingeniously designed Folding design can completely save your place!
The sleek design makes it an ideal multi-tool for all activities (camping, fishing, picnicking or DIY) and is for perfect everyday use around the home or office. You can master the multipurpose tool and solve problems easily!
This master crafted DuckOut™ 7.5" Pocket Knife 5-in-1 Tactical Multitool is designed by a Swiss designer team with 20 years of experience. The black stainless steel multi-tool has a beautiful appearance, ergonomic design, and comfortable operation. Only the finest super tough and durable stainless steel material and special black metal oxidation technology that improves product quality and will not rust for a years to come
LET OUR CUSTOMERS SPEAK FOR US
Wear it 24/7
I admired my husbands band and he talked me into ordering one of my own. I love that I can swim in it and wear it 24/7 without even knowing I'm wearing it!
Gay C.
08/12/19
Spot on With Values
Amazing once you get it paired works perfectly. Spot on with values pulse BP etc. Vibration strong enough to get your attention when text or call comes in. If you want it for sport mode that is not the best. Only has run walk home no choices like swim paddle etc. It is very waterproof salt and fresh. Battery lasts 4 days before charging again. Great buy overall.
Lorem.
07/16/19