Duckout™ Credit Card Multi-Pocket 14 in 1 Survival Tool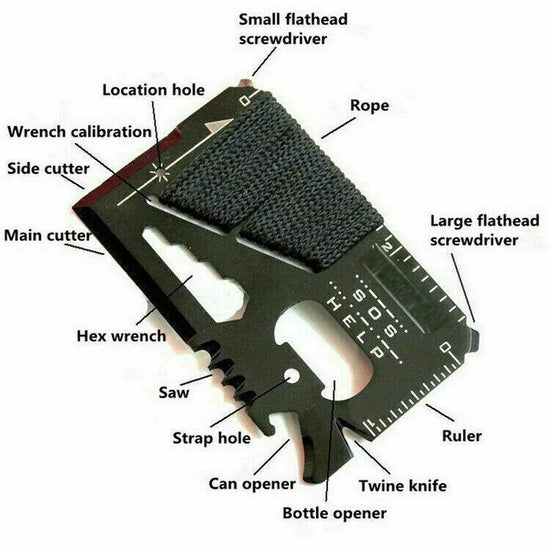 Duckout™ Credit Card Multi-Pocket 14 in 1 Survival Tool
Product Description
Description
The Duckout™ Credit Card Multi-Pocket 14 in 1  Survival Tool has everything you could need in a pinch like a bottle opener, can opener, hex wrench set, 2 rulers, emergency para-cord, rope cutter, nail puller, hole locator, 2 screwdrivers, 2 knife edges, and saw. Say that in one breath huh?
It easy to use and fits in your wallet without causing bulkiness, allowing you to take this tool with you anywhere and be ready anytime! Made with high-quality stainless steel, the Duckout™ Credit Card Multi-Pocket 14 in 1  Survival Tool will never break or rust!
LET OUR CUSTOMERS SPEAK FOR US
Wear it 24/7
I admired my husbands band and he talked me into ordering one of my own. I love that I can swim in it and wear it 24/7 without even knowing I'm wearing it!
Gay C.
08/12/19
Spot on With Values
Amazing once you get it paired works perfectly. Spot on with values pulse BP etc. Vibration strong enough to get your attention when text or call comes in. If you want it for sport mode that is not the best. Only has run walk home no choices like swim paddle etc. It is very waterproof salt and fresh. Battery lasts 4 days before charging again. Great buy overall.
Lorem.
07/16/19