DuckOut™ EDC 5-in-1 Multi-Purpose Tactical Pocket Knife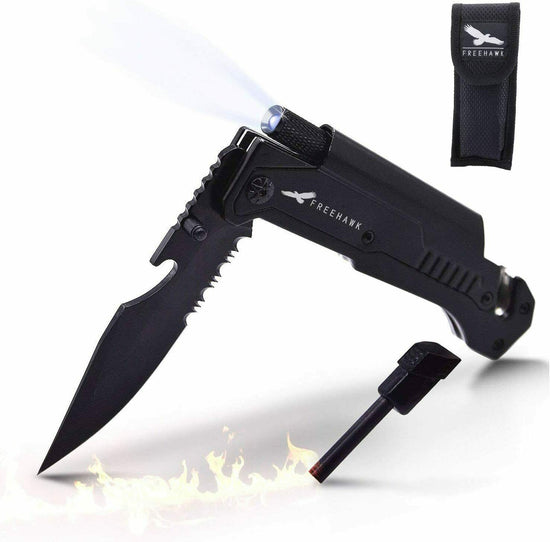 DuckOut™ EDC 5-in-1 Multi-Purpose Tactical Pocket Knife
Product Description
Description
The next generation every day carry tool you will ever need has arrived. The DuckOut™ EDC 5-in-1 Multi-Purpose Tactical Pocket Knife is the must-have gadget of the season. This Swiss Army inspired multi-tool is made of the high quality & durable you have come to expect from the DuckOut™ line of tactical products. Packed with features like the never rust coated steel folding blade with serrated edge and sharpened to precision, convenient bright LED flashlight, fire starter for those backyard fires this winter, emergency seatbelt cutter, and glass breaker.
The everyday carry tool with the strength and support you need to be ready for anything. Each tool works seamlessly with the greatest of ease. This EDC easily fits in your pocket or use the belt holster! Perfect for Camping, Fishing, Hiking, and Survival, as well as a handy tool for the house or car. Kids and adults will get optimal use out of these essential everyday tools.
LET OUR CUSTOMERS SPEAK FOR US
Wear it 24/7
I admired my husbands band and he talked me into ordering one of my own. I love that I can swim in it and wear it 24/7 without even knowing I'm wearing it!
Gay C.
08/12/19
Spot on With Values
Amazing once you get it paired works perfectly. Spot on with values pulse BP etc. Vibration strong enough to get your attention when text or call comes in. If you want it for sport mode that is not the best. Only has run walk home no choices like swim paddle etc. It is very waterproof salt and fresh. Battery lasts 4 days before charging again. Great buy overall.
Lorem.
07/16/19