DuckOut™ EDC Quick Draw Karambit Knife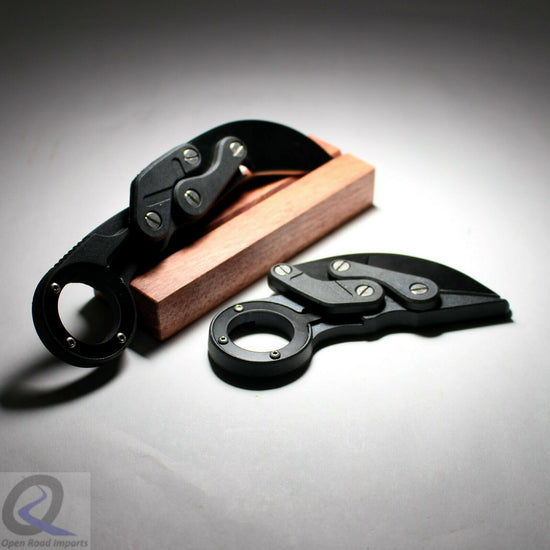 DuckOut™ EDC Quick Draw Karambit Knife
Product Description
Description
The DuckOut™ EDC Quick Draw Karambit Knife may take its inspiration from an ancient design but it's hiding a futuristic secret. One of the first karambit knifes ever to feature its quick folding technology, it stays neatly tucked away discrete and concealed yet comes to life in just a flash if ever there's trouble afoot. The unique tactical innovation deploys the blade quickly with just the push of the thumb!
The Designer of the DuckOut™ EDC Quick Draw Karambit Knife might be considered to be somewhat of a mad scientist with its 2.38" tactical black titanium nitride coated master forge blade of D2 high carbon steel at 60-61 Rc. Its lightweight hard anodized aluminum karambit blade, and finger ring make it ideal for everyday carry. The handle is aircraft-grade 6061 aluminum for supreme toughness and durability. Measures 4-7⁄8" closed. Weighs 6.1 oz.
The opening and closing mechanism is innovative and truly  futuristic. Simply nudge the upper crossbar with your thumb—while firmly grasping the handle, and the blade smoothly glides open and locks in place. Unclip the discrete safety lever at the base of the finger loop and the blade retreats into its closed position.
LET OUR CUSTOMERS SPEAK FOR US
Wear it 24/7
I admired my husbands band and he talked me into ordering one of my own. I love that I can swim in it and wear it 24/7 without even knowing I'm wearing it!
Gay C.
08/12/19
Spot on With Values
Amazing once you get it paired works perfectly. Spot on with values pulse BP etc. Vibration strong enough to get your attention when text or call comes in. If you want it for sport mode that is not the best. Only has run walk home no choices like swim paddle etc. It is very waterproof salt and fresh. Battery lasts 4 days before charging again. Great buy overall.
Lorem.
07/16/19