Furr-Enforcer Ultimate Pet Hair Remover Brush Set & Grooming Glove Bundle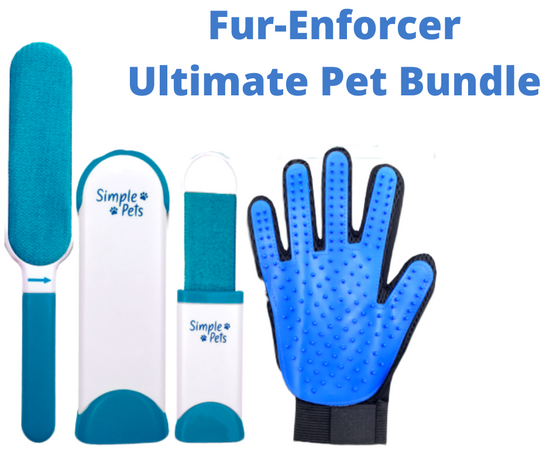 Furr-Enforcer Ultimate Pet Hair Remover Brush Set & Grooming Glove Bundle
Product Description
Description
FURR-ENFORCER ULTIMATE PET HAIR REMOVER SET & GROOMING GLOVE SET

THE MOST EFFECTIVE WAY TO KEEP THOSE CAT OR DOG LOVE FIBERS UNDER CONTROL
This Bundle Includes
1 - Large Simple Pets Fur-Enforcer

1 - Mini Travel Simple Pets Fur-Enforcer

1 - Hair Be Gone Pet Grooming Glove
NO NEED TO SHAVE THE CAT, FURR-ENFORCER HAVE YOUR BACK!
We all been there, the thought has crossed our mind, fortunately for our furry friends, there is a better way!
Cats and dogs can be really cute, and we love them so much! but having their fur all over our clothes, furniture and even in our food can be infuriating
Lightweight and Portable
 
Effectively removes fur from any surface
 
Easy to clean
 
Includes a mini FURR-ENFORCER to carry in your purse or pocket, for emergency "de-furring"
---
 

Not only will you have a great way to stay ahead of the hair and dander your pet loses, but with the Hair BeGone Grooming Glove, your pet will get a wonderful relaxing scratching massage we all know they love.

 
SPECIAL OFFER TODAY
LET OUR CUSTOMERS SPEAK FOR US
Wear it 24/7
I admired my husbands band and he talked me into ordering one of my own. I love that I can swim in it and wear it 24/7 without even knowing I'm wearing it!
Gay C.
08/12/19
Spot on With Values
Amazing once you get it paired works perfectly. Spot on with values pulse BP etc. Vibration strong enough to get your attention when text or call comes in. If you want it for sport mode that is not the best. Only has run walk home no choices like swim paddle etc. It is very waterproof salt and fresh. Battery lasts 4 days before charging again. Great buy overall.
Lorem.
07/16/19