Joint Friendly Easy Open Automatic Can/Jar Opener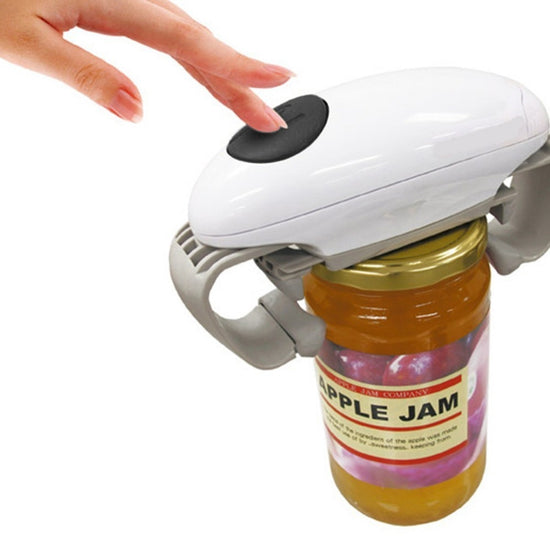 Joint Friendly Easy Open Automatic Can/Jar Opener
Product Description
Description
Sometimes a lid is so stuck, no amount of muscle or willpower will loosen it. Tapping, prying, rubber grips... sometimes nothing works! Not anymore!
Introducing the Easy-Open Automatic Jar Opener - makes opening jars amazingly simple!
This simple kitchen aid tool can open a wide variety of jars from small to large and every size in-between.
With the Easy-Open Automatic Jar Opener, dealing with a stuck lid while trying to make dinner for the family will never be frustrating again. The press of a button activates its powerful twisting action, tightening around the lid and loosening it. It's that simple!
Press again to release the lid. When it's time to put it away, the Easy-Open Jar Opener is compact enough to fit in a drawer, so it's always ready when you need it most.
PRODUCT FEATURE BENEFITS
Opens a wide variety of glass jars with lids from 1" to 4" in diameter. No jar is too tall!
The effortless, push-button opening means strong muscles are not needed
Makes a great gift for anyone who cooks or suffers from arthritis or limited hand dexterity
Made with quality materials and built for long-term durability
Compact for easy storage in a drawer or cabinet
PRODUCT USE
The Easy-Open Automatic Jar Opener was designed for everyone who opens jars regularly or on occasion, and it's especially helpful for those with limited hand strength or arthritis. Easy-Open is the one tool no kitchen should be without because it solves a problem that frustrates everyone from time to time.
HOW TO USE
Simply place the jar opener on top of the jar and press the button. The outer arms grip the jar while the inner arms close tightly around the lid and rotate, loosening the lid effortlessly. It's that simple!
TIPS & CARE
Do not use with plastic jars. This Automatic Jar opener is intended only for glass jars with screw-on lids.
Be sure the outer arms of the jar opener fit securely on the jar to prevent slipping. The jar opener will turn off automatically when the arms reach the outermost or innermost position.
For tapered jars, place your hand on top of jar opener to hold firmly in place to ensure that the arms do not slip on the jar.
To replace batteries, press and slide the battery compartment cover in the direction of the arrow. After replacing batteries, slide the cover closed in the opposite direction of the arrow.
The jar opener may start running when the batteries are installed. This is normal.
LET OUR CUSTOMERS SPEAK FOR US
Wear it 24/7
I admired my husbands band and he talked me into ordering one of my own. I love that I can swim in it and wear it 24/7 without even knowing I'm wearing it!
Gay C.
08/12/19
Spot on With Values
Amazing once you get it paired works perfectly. Spot on with values pulse BP etc. Vibration strong enough to get your attention when text or call comes in. If you want it for sport mode that is not the best. Only has run walk home no choices like swim paddle etc. It is very waterproof salt and fresh. Battery lasts 4 days before charging again. Great buy overall.
Lorem.
07/16/19