JustLazen™️ Laser Engraving Machine for Etching Wood, Plastic, 3D, Leather and more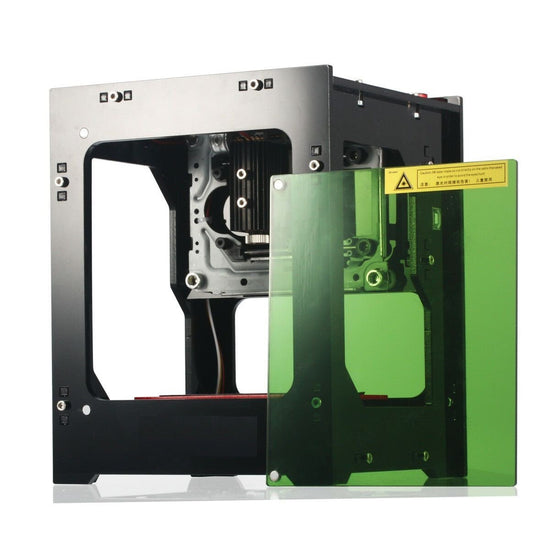 JustLazen™️ Laser Engraving Machine for Etching Wood, Plastic, 3D, Leather and more
Product Description
Description
Grab your Discounted JustLazen™️ Laser Engraving Machine for Etching Wood, Plastic, 3D, Leather and more while the Store LAUNCH DISCOUNT is on!
Home and office laser engraving have become so much easier these days. Once strictly used by industrial manufacturers, laser engraving is increasingly adopted by small businesses, product designers, makers, and even hobbyists. Do all you need with this amazing product.

Laser Engraving Machine for Etching Metal, 3D, Wood and more
In some cases, a laser engraver might prove to be the most advantageous manufacturing technology for your specific application.
Made of high-quality Acrylic + Aluminum + Stainless Steel, it is durable for a long time working.
With the cooling fan, it can cool the machine temperature at work, which extends the service life.
It comes with a laser focus knob, through rotation it can adjust the focus point to determine the precision.
It comes with protective lenses. You don't have to operate it with wearing glasses, which is more convenient.
This is a multi functional laser engraving machine that is is ideal for amateur laser engraving usage with gray scale printing and can be placed directly on the surface of any flat object for engraving. Perfect for Decoration Engraving or Customize your small lovely belongings.
Engrave Highly Detailed Graphics
A laser's ability to engrave high-resolution graphics at top speed showcases the amazing motion control built into our laser machines. You'll be able to engrave images that truly astonish you!
Quick Positioning Features
Easily position your items for engraving. Use the top left corner as your home position, or easily move the laser head to a custom spot on the engraving table that will best work for your object.
Personalize Any Product
Take any product and add a personalized touch by laser engraving a customers logo, photo, or custom design. With the ability to engrave so many different materials, you'll be adding a personal touch to every product you can!
Engraving Materials:
Wood
Leather
Bamboo
Plastic
Rubber
Paper
and much much more...
JustLazen™️ Laser Engraving Machine for Etching Wood, Plastic, 3D, Leather and more Features:
Support our professional English design software .
Engraving is 10 times faster.
Strong and cool design, high precision and stability, with 108 screws and alloy structure that make it strong.
Unique frame and weak light automatic positioning, Frame positioning makes the image positioning easier, Weak light even would not be difficult to engrave in toothpicks, Make engraving picture no excess residue and perfect, also more safe to prevent fire.
490x490 high Resolution Print, Soft material can print out the 3D and the gradient effect.
Lone time use, we developed the professional power IC and radiator, Carving time will last much longer than other laser and more stable.
Truly 100mW Blue and purple laser head, more higher speed, support more types of materials.
Technical Parameters
Laser Power: 1500mW

Laser Wavelength: 405nm
Laser Operating Temperature: 500 Degrees
Support Software
Working Area: 38x38mm
Image Format: jpg
Image Size: 490x490px
Image Engraving Pattern: Bitmap Engraving
Support System: Windows, Mac
Can Engrave: Mahogany, bamboo, paper cards, ivory, leather, flammable plastic, PCBA, etc.
Usage: Engraving, hand tools and industrial processing
Package Includes:

1 * Engraving Machine
1 * Protective Board
2 * USB Cables
1 * Allen Wrench
1 * Installation CD

 

(No CD now. On the back of the machine, we pasted a label to download the link and QR code of the software, as well as the instructions. You can download the software directly through the link or QR code)

1 * Focusing Film
1 * Grease (Optional)
1 * User Manual
LET OUR CUSTOMERS SPEAK FOR US
Wear it 24/7
I admired my husbands band and he talked me into ordering one of my own. I love that I can swim in it and wear it 24/7 without even knowing I'm wearing it!
Gay C.
08/12/19
Spot on With Values
Amazing once you get it paired works perfectly. Spot on with values pulse BP etc. Vibration strong enough to get your attention when text or call comes in. If you want it for sport mode that is not the best. Only has run walk home no choices like swim paddle etc. It is very waterproof salt and fresh. Battery lasts 4 days before charging again. Great buy overall.
Lorem.
07/16/19