Lenovo Mirage AR MARVEL Dimension of Heroes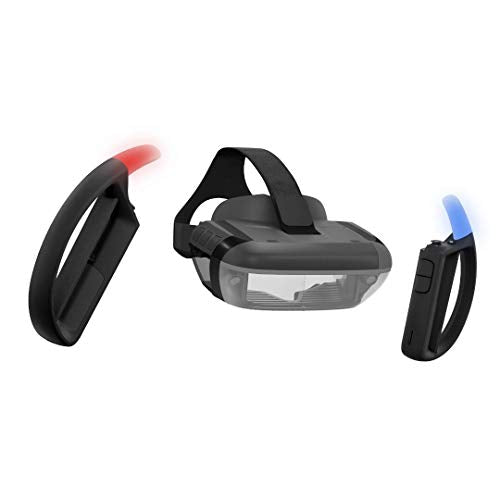 Lenovo Mirage AR MARVEL Dimension of Heroes
Product Description
Description
Unleash the Hero Inside You 
Step into the intergalactic world of MARVEL and fight for justice as Captain America, cast magical spells as Doctor Strange, unleash Vibranium energy as Black Panther, and much more in the comfort of home. Brought to you by Lenovo Mirage AR, this smartphone-powered augmented reality (AR) game lets you transform into and fight alongside some of the most iconic heroes the world has ever known. Are you ready to save the world and unleash your true hero inside? Dawn your helmet, raise your remotes and prepare yourself to face down the most dastardly villains in the galaxy! 
Who Said Quality Entertainment Had To Be Pricey?
Why you need to grab this while you can, The Lenovo Mirage AR is not to be confused with those expensive VR (Virtual Reality) systems that can cost thousands, requiring complicated setups and hair pulling calibrations. AR (Augmented Reality) uses the technology already contained in most smartphones* made today smashing the upfront cost like The Incredible Hulk. 
The Universe Can Not Wait A Hero Is Needed
Setup is so quick and easy anyone can use it, download the software as instructed, place your smartphone in the headset, and pick up your remotes. You'll be playing for hours (literally) and at a time with the Lenovo Mirage AR Headset's 2200 mAH (Up to 5 hours), the Universal Controllers' require 2 x AA Battery for up to 8 hours of play, and the Tracking Beacon's require 2 x AA Battery for up to a whopping 20 hours. Setup is so fast you must be sure you're ready to defend your reality from the forces of inter dimensional evil on their way.
Packed With Hours Of Fun
EXTRA BONUS***: Also compatible with Star Wars Jedi Challenges, Pursue the path of the Jedi and take up your lightsaber. ***separate (FREE) download needed to play.
PLAYABLE HEROES: Select from six legendary heroes, each with their own incredible weapons and powers, to save Earth from the forces of darkness.
STORY MODE: The Dread One, Dormammu, descends upon the Earth! Unleash your heroic powers to save our world from destruction in an epic, original MARVEL storyline!
SURVIVAL MODE: Facedown waves of enemies in competitive assault battles. Compete for high scores to prove yourself against players from around the world.
CO-OP MODE**: Team up with a friend and wage war against the forces of evil.**To play Co-Op Mode, both players must each have a separate Lenovo Mirage AR starter kit
PHONE COMPATIBILITY*: Marvel Mirage AR Solo is a smartphone-powered experience compatible with select Android and iOS devices. Currently Validated Phones: iPhone 6 and newer iPhone models. Samsung Galaxy S9, S8, S7 edge, S7. Google Pixel and XL. Moto Z2 Force, Moto Z, LG G6. Mate 10, Mate 10 Pro, Nova 2S, Xiaomi MIX2, Sony Xperia XZ1.
LET OUR CUSTOMERS SPEAK FOR US
Wear it 24/7
I admired my husbands band and he talked me into ordering one of my own. I love that I can swim in it and wear it 24/7 without even knowing I'm wearing it!
Gay C.
08/12/19
Spot on With Values
Amazing once you get it paired works perfectly. Spot on with values pulse BP etc. Vibration strong enough to get your attention when text or call comes in. If you want it for sport mode that is not the best. Only has run walk home no choices like swim paddle etc. It is very waterproof salt and fresh. Battery lasts 4 days before charging again. Great buy overall.
Lorem.
07/16/19