Over 500 Delectably Appetizing Diabetic Recipes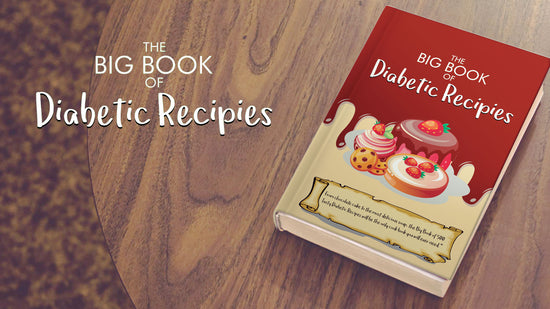 Over 500 Delectably Appetizing Diabetic Recipes
Product Description
Description
Over 500 Tasty Diabetic Recipes, sure to please your taste buds and satisfy your diet restrictions!
INSTANT ACCESS TO DIGITAL DOWNLOAD EBOOK
***All Sales Of Digital Products Are Finale***
Millions of people have Diabetes and have to maintain a special Diet. But this doesn't mean you can't enjoy the things you like, you just have to make them a little differently.
"500 Delectably Appetizing Diabetic Recipes" gives you an awesome collection of over 500 recipes! You'll find recipes for things you may have thought you couldn't have any more, like Fudge, Cakes, and Cookies. Well, the good news is you can still have all those things you just need some recipes that tell you how to make them!
You don't even have to be a Diabetic to enjoy these recipes, anyone wanting to cut down on the sugar in their diet will benefit from these recipes! Take a look at the list below for just a small sampling of what's included in "Delicious Diabetic Recipes"!
SUGAR - FREE CRANBERRY RELISH
IT COULD BE A SNICKERS BAR
CHOCOLATE CHIP COOKIES
BLACK BOTTOM PIE
CHICKEN BREASTS WITH CARROT AND ZUCCHINI STUFFING
SUGARLESS CAKE
DIABETIC ORANGE SUNBEAMS
ALMOND BISCUIT RING
BANANA SPLIT PIE
BROWNIE TORTE
FUDGE SWEET BROWNIES
FROZEN APRICOT MOUSSE
GOLDEN CARROT PIE
APPLESAUCE CAKE/>EASY CHOCOLATE GRAHAM TORTE
APRICOT PINEAPPLE CAKE
DIABETIC PEANUT BUTTER COOKIES
DIABETIC FUDGE
PINEAPPLE SHERBET
DIABETIC APPLE PIE
DIABETIC'S PUMPKIN PIE
DIABETIC EGGNOG
DIABETIC JELLY
DIABETIC COOKIES
DIABETIC FRUIT COOKIES
DIABETIC NUT LOAF
BANANA NUT SQUARES FOR DIABETICS
DIABETIC APPLESAUCE LOAF CAKE
DIABETIC CHOCOLATE CHIP COOKIES
DIABETIC APPLE JELLY
DIABETIC SPAGHETTI SAUCE
DIABETIC BARBECUE SAUCE
GRILLED TURKEY TENDERLOIN
SMAKEROON COOKIES
CHOCOLATE CAKE
PINEAPPLE COLE SLAW
PUMPKIN BREAD
OATMEAL COOKIES
SWISS STEAK
BEEF STEW
MEAT LOAF
BAKED FISH FILLETS
VEGETABLE SOUP
SPICED POT ROAST
LOW-CALORIE BROWNIES
THOUSAND ISLAND DRESSING
DEVILED EGGS
MACARONI AND CHEESE
CORNBREAD DRESSING
CREAMED POTATO SOUP

With this collection of recipes, you shouldn't have any trouble coming up with something you like and also fits your diet restrictions! So grab your copy today of "500 Delectably Appetizing Diabetic Recipes"
The whole package
TODAY ONLY DISCOUNT
PS: This Special Offer will be closed shortly
Download your copy now whilst our super sale is on. You'll be directed to the download page right away and emailed access too in case you want to come back any time!
***All Sales Of Digital Products Are Finale***
LET OUR CUSTOMERS SPEAK FOR US
Wear it 24/7
I admired my husbands band and he talked me into ordering one of my own. I love that I can swim in it and wear it 24/7 without even knowing I'm wearing it!
Gay C.
08/12/19
Spot on With Values
Amazing once you get it paired works perfectly. Spot on with values pulse BP etc. Vibration strong enough to get your attention when text or call comes in. If you want it for sport mode that is not the best. Only has run walk home no choices like swim paddle etc. It is very waterproof salt and fresh. Battery lasts 4 days before charging again. Great buy overall.
Lorem.
07/16/19