Self-Playing Tug of War Dog Toy with Bonus Teeth Cleaning Tech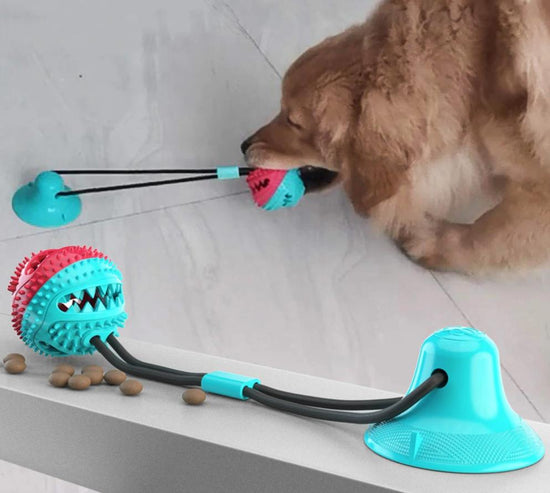 Self-Playing Tug of War Dog Toy with Bonus Teeth Cleaning Tech
Product Description
Description
✔Great Self-Entertaining Toy - Your dog will love the durable rubber material, made of food-grade TPR rubber self-entertaining toy? This toy combines a positive interaction, brain stimulation, teeth cleaner and molar function all into one.
Great for classic tug of war when you may not have the strength or energy to play with that rambunctious puppy. It is environmentally friendly and harmless to your beloved pets.
***To ensure the best experience, it is best used for small/medium dogs. (aggressive chewer are not recommended)
In addition, this toy is a good teeth cleaning tool, you can put the dog food or treats in the ball, your dog will love trying to eat the food. All the while when the dog bites it, the serration inside will clean the food residue in the teeth.
✔Powerful suction cup - The powerful suction and super-tough ropes can endure hours of dog play all while keeping them in a fixed range. Of course, the suction cup must be attached to a smooth and flat surface, be sure to press the suction cup firmly for stronger fixation
LET OUR CUSTOMERS SPEAK FOR US
Wear it 24/7
I admired my husbands band and he talked me into ordering one of my own. I love that I can swim in it and wear it 24/7 without even knowing I'm wearing it!
Gay C.
08/12/19
Spot on With Values
Amazing once you get it paired works perfectly. Spot on with values pulse BP etc. Vibration strong enough to get your attention when text or call comes in. If you want it for sport mode that is not the best. Only has run walk home no choices like swim paddle etc. It is very waterproof salt and fresh. Battery lasts 4 days before charging again. Great buy overall.
Lorem.
07/16/19