Thin 7 Chakra Rainbow Yoga Beach Towel Mat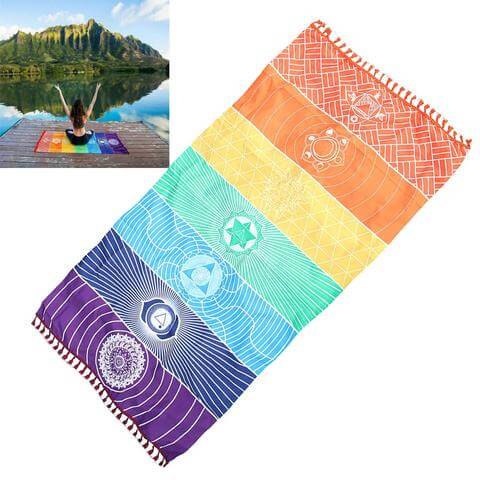 Thin 7 Chakra Rainbow Yoga Beach Towel Mat
Product Description
Description
Focus on your chakra with this Thin 7 Chakra Rainbow Yoga Beach Towel Mat during your next yoga session on the beach or at home
The 7 Chakra Rainbow designed yoga towel is lightweight and versatile so you can anywhere you go!

Perfect for at-home, beach, park, and at home!
The artistic and colorful beach towel doubles as a yoga mat that features the seven different elements of Chakra designed in a beautiful rainbow pattern. Good vibes and positive energy will flow with you anywhere you bring this unique yoga mat.
Channel the energy in your space and hang up the Chakra beach towel as a tapestry in your meditation room or include it into your home decor. The Thin style seven Chakra yoga beach mat is extremely lightweight, soft, vibrant, and affordable. Order several and keep the positive vibes flowing everywhere you go!
LET OUR CUSTOMERS SPEAK FOR US
Wear it 24/7
I admired my husbands band and he talked me into ordering one of my own. I love that I can swim in it and wear it 24/7 without even knowing I'm wearing it!
Gay C.
08/12/19
Spot on With Values
Amazing once you get it paired works perfectly. Spot on with values pulse BP etc. Vibration strong enough to get your attention when text or call comes in. If you want it for sport mode that is not the best. Only has run walk home no choices like swim paddle etc. It is very waterproof salt and fresh. Battery lasts 4 days before charging again. Great buy overall.
Lorem.
07/16/19