RelaxMeRight™ Electro Therapy Massage Stimulator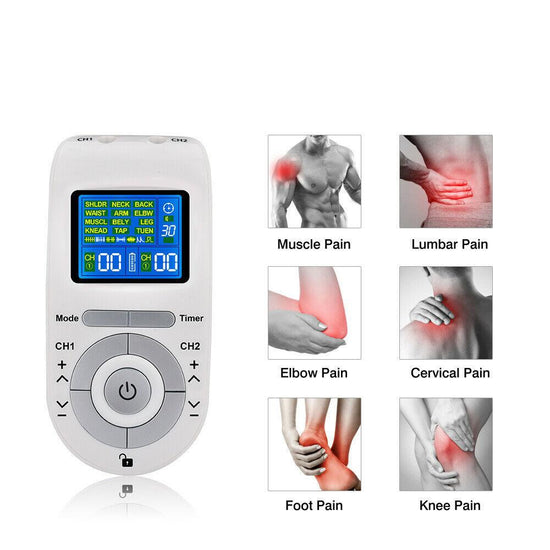 RelaxMeRight™ Electro Therapy Massage Stimulator
Product Description
Description
"It worked as well as the one that was used on me when I went for physical therapy. I have back and sciatica problems and it's nice to be able to get some relief without having to go the dr or chiropractor. Very affordable. I would definitely recommend it."

Michelle H. **Verified Customer
IMPROVE BLOOD CIRCULATION, PROMOTE METABOLISM, AND ELIMINATE FATIGUE

Say goodbye to muscle and joint stiffness today! The RelaxMeRight™ Electro Therapy Massage Stimulator uses DRUG-FREE Transcutaneous Electrical Nerve Stimulation (TENS) to soothe pains, aches, increases blood circulation, and loosing up those stiff muscles.

Harness the power of this simple and easy to use electric nerve stimulation device using low-voltage pulses to help alleviate those areas affected by stress and stiffness. Safe and recommended by chiropractors the world round, the electrical pulses are released via electrodes to contract and release the affected area helping to increase blood flow creating a relaxing state of euphoria.

Perform pain-relieving treatment at home, in the office, or anywhere you need to relax. It comes with 8 Gel Electrode Pads for a full body massage and 8 modes: Acupuncture, Stroke, Massage, Cupping, Manipulation, Scrapping, Weight Reducing, and Immune Therapy.
Start feeling the joy of relaxation and start feeling great again.
LET OUR CUSTOMERS SPEAK FOR US
Wear it 24/7
I admired my husbands band and he talked me into ordering one of my own. I love that I can swim in it and wear it 24/7 without even knowing I'm wearing it!
Gay C.
08/12/19
Spot on With Values
Amazing once you get it paired works perfectly. Spot on with values pulse BP etc. Vibration strong enough to get your attention when text or call comes in. If you want it for sport mode that is not the best. Only has run walk home no choices like swim paddle etc. It is very waterproof salt and fresh. Battery lasts 4 days before charging again. Great buy overall.
Lorem.
07/16/19