Spirit Of The Strong Horned Viking King Skull Mug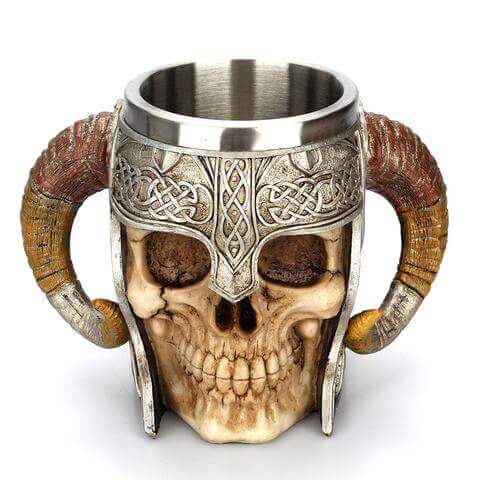 Spirit Of The Strong Horned Viking King Skull Mug
Product Description
Description
ONE GIFT TO RULE THEM ALL!
Are you the type of person who loves unique items? Then this handcrafted chalice inspired by the Viking clansmen is a MUST HAVE!
Forged of Stainless Steel and laden with High-Quality Resin, this ONE-OF-A-KIND chalice is a time machine that takes you back to the days of valor when the Viking Hordes reigned supreme. 
As you sip wine, beer or good ol' coffee from this impressive skull mug, you can stare right into the eyes of a stranger and instill fear – or at least admiration!
Take your skull mug anywhere you go! Stand out and impress everyone at any table with this epic design. 
Brought to by V.M. Mug by Veteran Merchandise
•    Height: 5.11"
•    Capacity: 450ml
•    Width: 7.48"
•    Materials: 304 Stainless Steel, Resin
WHY THIS MUG over that boring mug? The Spirit Of The Strong Horned Viking King Skull Mug Mug is;
•    Handmade-To-Order
•    Limited Edition Design
•    World's Strongest Steel
•    Fast Worldwide Shipping + 60 Day Money Back Guarantee
LET OUR CUSTOMERS SPEAK FOR US
Wear it 24/7
I admired my husbands band and he talked me into ordering one of my own. I love that I can swim in it and wear it 24/7 without even knowing I'm wearing it!
Gay C.
08/12/19
Spot on With Values
Amazing once you get it paired works perfectly. Spot on with values pulse BP etc. Vibration strong enough to get your attention when text or call comes in. If you want it for sport mode that is not the best. Only has run walk home no choices like swim paddle etc. It is very waterproof salt and fresh. Battery lasts 4 days before charging again. Great buy overall.
Lorem.
07/16/19