BionicKnee™ Joint Support Bionic Knee Brace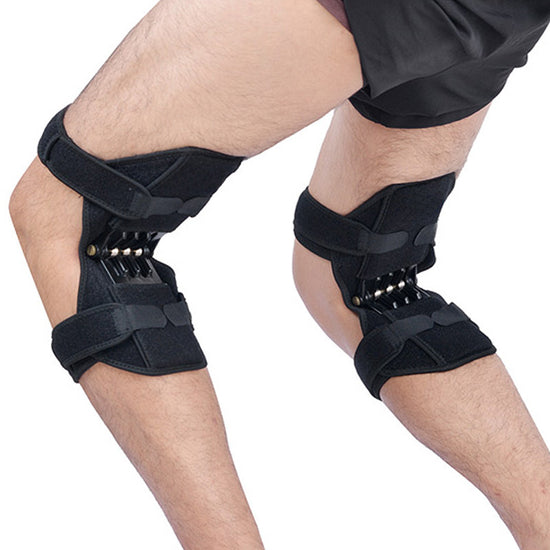 BionicKnee™ Joint Support Bionic Knee Brace
Product Description
Description
Provide your battle-hardened knee joints with the ultimate support using the Bionicknee™ - Spring Back Bionic Joint Knee Brace. This product is perfect for anyone that has weak sore knees, lower back pain, exercises regularly, or who job may require heavy lifting or regular crouching.
Designed with durable high-tech alloy springs and breathable easy to wear elastic knee straps, this advanced joint aid device can help alleviate joint pain in the knees and ankles caused by your own bodyweight! Allowing you to put that peep back in your step and move around freely without a lot of effort.

Getting that Spring in Your Step: Improved thickened strong spring that can withstand a weight of up to 44 lbs for each brace. This pair of Spring Back Bionic Joint Support Knee Braces can help lighten the bodyweight put on your knees by up to 80 lbs in total! Making you feel lighter, allowing you to lift each knee easier as you go along with your daily activities.
High-Quality - The knee brace is durable, lightweight, aluminum remarkable elasticity. The Velcro straps make the product easy to put on, take off, and wear comfortably - whether inside or outside of your clothing.
Reduce Stress - Reduce stress on ligaments and tendons in your knees by supporting your thighs and calves, effectively reducing the pressure put on your knees. Our spring-loaded technology will reduce instability in the anterior, posterior, medial, and lateral ligaments.
Lightweight, relaxed and comfortable with the help of this innovative knee pad. You no longer have to worry about joint discomfort. Let it be your new friend of an active lifestyle!
LET OUR CUSTOMERS SPEAK FOR US
Wear it 24/7
I admired my husbands band and he talked me into ordering one of my own. I love that I can swim in it and wear it 24/7 without even knowing I'm wearing it!
Gay C.
08/12/19
Spot on With Values
Amazing once you get it paired works perfectly. Spot on with values pulse BP etc. Vibration strong enough to get your attention when text or call comes in. If you want it for sport mode that is not the best. Only has run walk home no choices like swim paddle etc. It is very waterproof salt and fresh. Battery lasts 4 days before charging again. Great buy overall.
Lorem.
07/16/19