SquitoZapper™ Outdoor Insect Pest Zapper And Lamp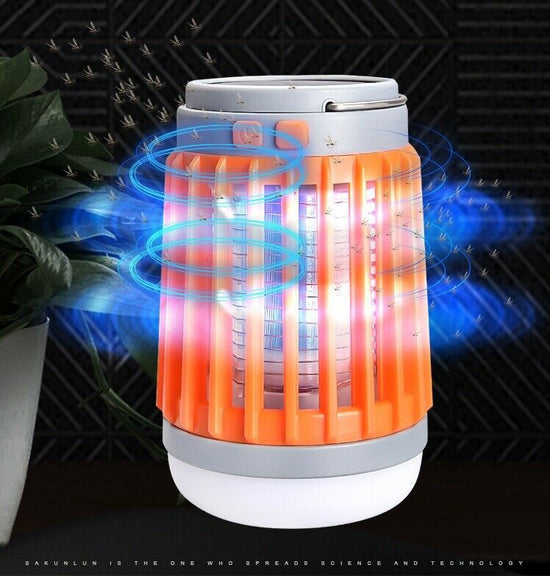 SquitoZapper™ Outdoor Insect Pest Zapper And Lamp
Product Description
Description
Are you annoyed by mosquitoes? Or even worse allergic?
They aren't just annoying, they spread killer diseases and as one of the world's top disease carriers infecting at an estimated 700K people worldwide annually and resulting in about 1 million deaths. Those little best can be dangerous.
THE ULTIMATE MOSQUITO DEFENSE!
Protecting you and your loved ones from mosquitoes is easier and safer than ever with the SquitoZapper™ Outdoor Insect Pest Zapper And Lamp! It uses UV light that mimics the heat form a human body and irresistible light spectrum, effectively clearing a 16ft. by 16ft. area of mosquitoes without using harmful chemicals.
Not only does the Mosquito Killer Lantern give off the perfect glow, it also performs well and has a long lifespan. For each charge, this lantern has 20 hours of battery life- while in mosquito zapping mode. It also has a convenient hook, which makes it easy to hang from a branch, in your tent or from a string.

A unique three for one, with combination outdoor lantern/flashlight and bug zapper. Not only does it protect you from those nasty little pest, but it will light your way with either lantern or flashlight mode. Keep your home and camping trips safe from mosquitoes with Mosquito Terminator now! It has been scientifically proven to effectively kill a broad range of mosquito species and other bloodsucking insects.

This amazing SquitoZapper™ Outdoor Insect Pest Zapper And Lamp is a MUST HAVE item when camping. This device comes with a USB rechargeable battery, which means you can plug it right into your computer, a USB wall charger, or even a portable battery pack before you go. While on your trip the built-in solar panels will recharge it. No need to be concerned with overcharging it has a smart chip to ensure it will never be overcharged. The 1 watt LED bulb measures at 6000K, so it provides a bright, white light.

This mosquito zapper has 4 lighting options: The low setting gives off 20% of the lamp's light. The middle level gives off 50% of the lamp's light and there's also a high setting that gives off 100% of the lamp's light. However, the mosquito zapper setting is probably the best setting on this lamp!
Automatic - Serves as a stand where you can place in a room, and it will automatically attract and kill the insects.
Effective - Powerfully attracts and eliminates mosquitoes, flies, gnats, flies, wasps, beetles, and much more.
Quiet - No high-voltage electric and no zapping sounds, eliminates insects quietly!
Safe - Banish all insects without the use of pesticides or dangerous chemicals.
Durable - Made of industrial grade materials that are built to last.
LET OUR CUSTOMERS SPEAK FOR US
Wear it 24/7
I admired my husbands band and he talked me into ordering one of my own. I love that I can swim in it and wear it 24/7 without even knowing I'm wearing it!
Gay C.
08/12/19
Spot on With Values
Amazing once you get it paired works perfectly. Spot on with values pulse BP etc. Vibration strong enough to get your attention when text or call comes in. If you want it for sport mode that is not the best. Only has run walk home no choices like swim paddle etc. It is very waterproof salt and fresh. Battery lasts 4 days before charging again. Great buy overall.
Lorem.
07/16/19