StandTall™ Adjustable Back Support Posture Corrector Brace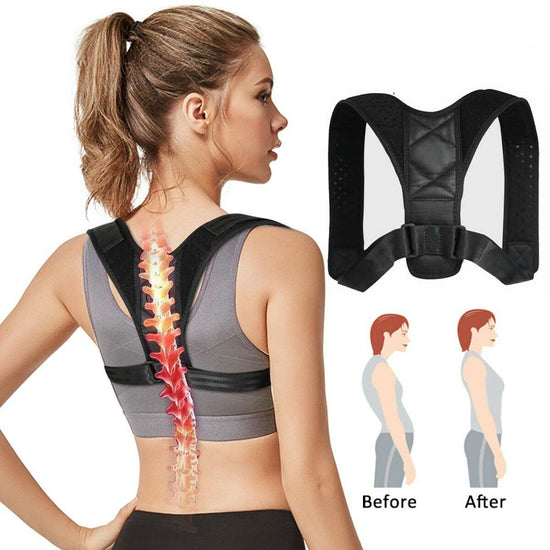 StandTall™ Adjustable Back Support Posture Corrector Brace
Product Description
Description
Millions of people suffer from poor posture, resulting in

severe

back pain. A wise man once said, "You can't put a price on good posture." Boy! was he right and now more than ever. In this day and age of long hours using computers and looking down at our cell phones. Has caused an epidemic of extreme slouching.

It is time to start taking steps to improve your posture now. The StandTall™ Adjustable Back Support Posture Corrector Brace can help you obtain a healthy confident posture in as little as 2 weeks. Made of high-tech stretchy neoprene material, the StandTall™ brace is designed to fit most sizes. Wear it comfortably at work, the gym, and even under your clothes and experience the joy of good posture all day, every day!

Everyone knows that poor posture is bad for long term health. If you're one of the many phone addicts and are continually looking down at your phone or sitting in front of a computer all day, chances are you suffer from slouching and poor posture. When poor posture is not fixed, it can lead to even more debilitating issues such as headaches, muscle fatigue, body aches, and back pain.

The StandTall™ Adjustable Back Support Posture Corrector Brace posture brace can help improve your posture within 2 weeks with just 2 hours of commitment a day from you. No longer wonder how good posture feels. Especially good posture that comes naturally from wearing this brace.


Listen to the difference yourself.

"Looking back, I can't believe I was walking around with my head tilted forward and shoulders slouched like a caveman. It wasn't until wearing the CloudPostures brace that I realized how ridiculous I looked and felt. I didn't realize how tight everything was and how big of an impact it had on my confidence and mood. Now that I can stand with my head tall and shoulders pulled back, I feel better from the inside out. Even my friends have noticed" -Jaime S. Austin, TX

When your body adjusts to wearing our posture corrector, muscle memory will keep your good posture in place naturally. Once you feel the difference, you'll find yourself needing the StandTall™ brace less while still keeping your posture at its best. Look confident, feel confident and be healthier!
LET OUR CUSTOMERS SPEAK FOR US
Wear it 24/7
I admired my husbands band and he talked me into ordering one of my own. I love that I can swim in it and wear it 24/7 without even knowing I'm wearing it!
Gay C.
08/12/19
Spot on With Values
Amazing once you get it paired works perfectly. Spot on with values pulse BP etc. Vibration strong enough to get your attention when text or call comes in. If you want it for sport mode that is not the best. Only has run walk home no choices like swim paddle etc. It is very waterproof salt and fresh. Battery lasts 4 days before charging again. Great buy overall.
Lorem.
07/16/19