The Venus 3-Vive With Superior Fertility Technology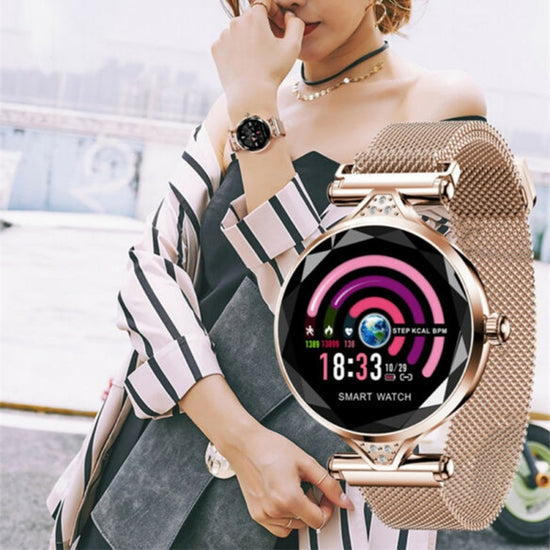 The Venus 3-Vive With Superior Fertility Technology
Product Description
Description
Touch by Venus, the Goddess of Fertility Herself to Bring You Unmatch Quality and Performance!!
The Venus 3-Vive is just what the doctor ordered, all of the big brand features with a feminine style you can shake your tail feather to in any outfit.
 The next evolution in empowering female technology has arrived. Track all of the important things to overall health like heart rate, blood pressure, sleep and calories burned just to name a few. All important to having a healthy pregnancy and overall longer life.
Fashion Gorgeous SmartWatch: Magnetic metal mesh strap, Diamond Shaped glass mirror, and inlaid with dazzling rhinestones.
24 hours continue Heart rate detection, Blood pressure test
Time display, step, calories, distance, sleeping, camera,
Multiple sport mode (running,swimming,riding, climbing,basketball,football,walking,badminton)
Exclusive Smartwatch For Women: It can predict your menstrual period, ovulation period, help in pregnancy. 
Call reminders, SMS reminder, Skype, Facebook, WhatsApp reminder.
Find the phone and find the bracelet
Alarm clock / medication / meeting / sedentary / drink reminder
One-key Detection Of Blood Pressure And Heart Rate: Know about your health at any time
Remote control camera (Just shake it to take pictures)
Sleep Monitor: Accurately record sleep information each night
LET OUR CUSTOMERS SPEAK FOR US
Wear it 24/7
I admired my husbands band and he talked me into ordering one of my own. I love that I can swim in it and wear it 24/7 without even knowing I'm wearing it!
Gay C.
08/12/19
Spot on With Values
Amazing once you get it paired works perfectly. Spot on with values pulse BP etc. Vibration strong enough to get your attention when text or call comes in. If you want it for sport mode that is not the best. Only has run walk home no choices like swim paddle etc. It is very waterproof salt and fresh. Battery lasts 4 days before charging again. Great buy overall.
Lorem.
07/16/19