USA Proud Bandana Flag Neck Gaiter Face Mask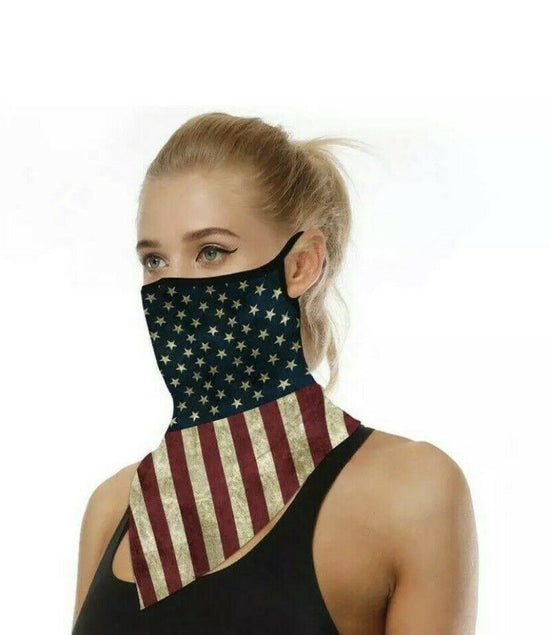 USA Proud Bandana Flag Neck Gaiter Face Mask
Product Description
Description
The USA Proud Bandana Flag Neck Gaiter Face Mask is made of 92% premium polyester and 8% premium spandex, it is breathable and comfortable in any position. And it has exceptional absorbing and wicking features to keep you dry all day.
 SUN PROTECTION AND DUST PROOF - When going out for running, cycling or motorcycling, wearing it as a face cover or neck gaiter can protect your face and neck from being overexposed to the harmful rays of the sun and keep your nose, mouth clean from breathing germs. 
 Multi-Functional Design: may ways to wear it - neckerchief, headband, wristband, bandana, hair-band, balaclava face bandana, face scarf, seamless bandana, beanie, bandana, mouth bandana, etc.
These are perfect for everyday wear Great for dusty music festivals, outdoor sports, concerts, biking, fishing, motorcycling, and running. They keep your nose and mouth clean from breathing dust.
LET OUR CUSTOMERS SPEAK FOR US
Wear it 24/7
I admired my husbands band and he talked me into ordering one of my own. I love that I can swim in it and wear it 24/7 without even knowing I'm wearing it!
Gay C.
08/12/19
Spot on With Values
Amazing once you get it paired works perfectly. Spot on with values pulse BP etc. Vibration strong enough to get your attention when text or call comes in. If you want it for sport mode that is not the best. Only has run walk home no choices like swim paddle etc. It is very waterproof salt and fresh. Battery lasts 4 days before charging again. Great buy overall.
Lorem.
07/16/19